Cancer Was a Wake-up Call to Quit Her Job for a Career in Fitness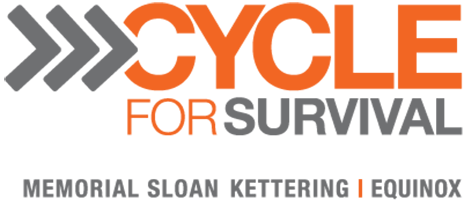 +

Before she was diagnosed, Michelle loved working out. She wouldn't let cancer change that.
Credit: @sdfmedianyc
In 2015, Michelle Lepp was a newlywed working in fashion who had a passion for fitness. At an indoor cycling class just two weeks before her wedding, she felt her sports bra dig into her neck. Thinking she may have pulled something, she went to yoga to stretch it out.
The pain got worse while on her honeymoon.
Fortunately, she listened to her body. The week she returned home, she skipped work and headed to the doctor to have it checked out.
"I got lucky," she says. Her doctor knew what it was right away and immediately sent her to a specialist. That same day, she was diagnosed with ALCL T-cell lymphoma, a rare cancer that begins in the cells of the immune system found in the lymph nodes, spleen, thymus gland, and bone marrow.
It was a shock. Michelle was active and felt healthy. At the time, she wondered if working out too much had caused any of her medical issues. She now believes that staying active has only made her stronger.
After her diagnosis, Michelle went to Memorial Sloan Kettering and was accepted into a clinical trial to treat her lymphoma. She says her doctor stayed positive, which kept her in the right headspace. "My doctor was always very adamant," she says. "He'd say, 'This is a very treatable cancer with high rate of remission so let's work to get you healthy.'"
While undergoing chemotherapy – six sessions in four months – Michelle stayed active by going to both indoor cycling and yoga once a week. "It was vital for me to keep moving and keep feeling like myself," she says. "I felt like I was releasing the toxins that I didn't need in my system." For two hours every week, Michelle could be reminded of what it was like before she was diagnosed. It gave her a sense of purpose, positive energy, and a way to combat the cancer by pushing forward.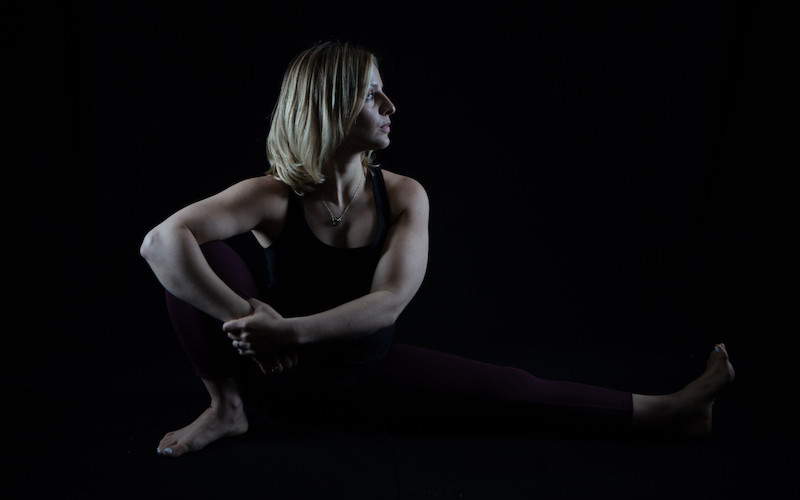 Michelle, @michellelaurenmovement; Credit: @sdfmedianyc
Michelle was diagnosed in September 2015 and in January 2016, her doctor told her she was cancer-free, and she has been in remission since. Her experience in those few months was transformative in shaping her perspective and priorities in life. Focusing on what was most meaningful to her, Michelle changed her career from fashion to fitness. "It was a wakeup," she says. "Once I got sick, I was like, why am I still here? So, I marched into that office and said, 'I'm leaving.'" She went on to complete her 200-hour yoga training and personal trainer certification that she had begun before her diagnosis.
"Fashion's great. It's important to me and I love it, but I needed to find a way to make an impact on a one-on-one level," she says. "I don't regret it for a millisecond."
Michelle is now an oncology-trained yoga therapist and works one-on-one with clients who have multiple sclerosis, cancer, and cardiac related health concerns in a healthcare setting. Her interest in helping others also led her to participate in Cycle for Survival, Memorial Sloan Kettering's annual indoor cycling fundraiser. One hundred percent of every dollar raised goes to rare cancer research, helping to fund clinical trials like the one that helped Michelle.
The fundraising dollars from Cycle for Survival have led to new and better ways to diagnose and treat cancer, making a difference for cancer patients and their families worldwide. "Cancer is something that affects every single person, and Cycle for Survival events give people the opportunity to fund new medicine and new treatments – all to make it possible for patients to get to the other side of a diagnosis," Michelle says. "We all have the opportunity to really make an impact in extending someone's life."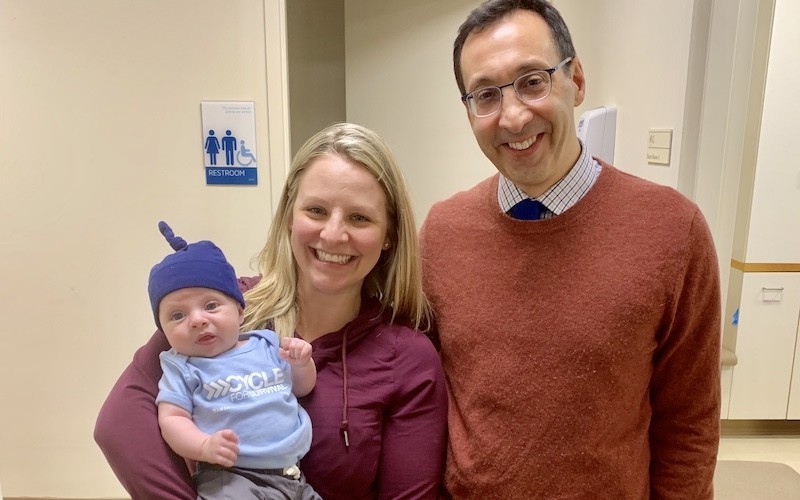 Michelle introducing her son to her oncologist, Dr. Steven Horwitz, at Memorial Sloan Kettering
About half of all cancer patients are fighting a rare cancer, and they often face limited or no treatment options. As Memorial Sloan Kettering doctors and researchers pursue new treatments, Cycle for Survival provides urgently needed resources. Cycle for Survival, the movement to beat rare cancers, raises money through its signature indoor team cycling events across the United States. 100 percent of every donation funds rare cancer research and clinical trials to improve lives worldwide. Together with the movement's founding partner, Equinox, Cycle for Survival has made a direct and meaningful impact for patient care and scientific discovery. Head to the Cycle for Survival website to learn more about the cause and donate.