Simple Food Swaps for Your Healthiest New Year Ever

Provided by Truvia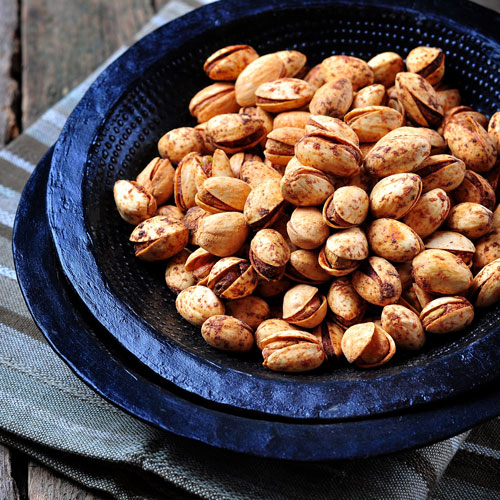 Little changes add up to big results, and better yet, you can actually stick with them. Make these smart food swaps for your best year yet.
Why You Should Think Small
Come January, it's tempting to set lofty goals (aka resolutions): lose 20 pounds, run a half marathon, sign up for skydiving. While those sound great, staring a huge goal in the face can be daunting—you might end up shelving that plan come March, once you realize that you bit off more than you can chew.
Instead, focus on small, attainable goals that will eventually lead you to the larger ones. Prime example: Making simple tweaks to your diet every day can pay off big a month or two down the line. And they're easy! You can totally cut out diet soda this week, and nix mayo from your sandwich the following—trying to cut carbs, sweets, and fats all at once just isn't sustainable.
Check out these tiny, easy food swaps that will make a big impact on your health without you ever really noticing.
Swap Diet Soda for Sparking Water with Fruit
Okay, it might sound like a sacrifice at first. But when you hear about all the potential health hazards of diet soda, you'll realize that ditching the habit once and for all is more than worth it. Monica Amsterdam, director of nutrition at the Medical and Wellness Center of New Jersey, says that it's not just an increased risk of obesity that soda drinkers have to worry about. The artificial sweeteners found in diet soda have been linked to "seizures, headaches, metabolic syndrome, and peripheral neuropathy, just to name a few." Naturally carbonated mineral water with your favorite fruit is a healthier option that will mimic the bubbles of soda but with the minimal natural sugar of fruit. (Upgrade your H2O with these infused water recipes.)
Swap Mayo for Smashed Avocado
A small swipe of mayo on two slices of sandwich bread will cost you more calories than you probably want to spend—and for little nutritional value. (Two tablespoons of full-fat will knock you back 180 calories, and that's before you stack up the other sandwich ingredients.) Get more, literally and nutritionally, for your buck by smearing smashed avocado on your turkey and Swiss. You'll get that same creamy texture, even more flavor, and heart-healthy fats in every bite. "Avocados are very nutritious and can help to reduce bad LDL cholesterol and normalize blood sugar," says Amsterdam.
Swap Butter for Coconut Oil
Unlike olive oil and its alternatives (like canola, avocado, and grapeseed) coconut oil is thicker, which makes it a better butter alternative. "Coconut oil has healing benefits because of its antiviral and antibacterial properties," says "Amsterdam. "Plus, it's easier for most people to digest than butter." (Discover everything you need to know about coconut oil.)
Swap Artificially Flavored Potato Chips for Naturally Flavored Nuts
Fried or even baked potato chips offer little nutrition for usually a lot of trans fat and calories, while nuts satisfy your craving for something crunchy while reducing the sodium and increasing the heart-healthy fats, says Sara Siskind, certified nutritional health counselor and founder of Hands On Healthy cooking classes for adults, families, and teens in New York. Try making your own at home with Truvia Brown Sugar Blend and Truvia Baking Blend for a sweet and salty snack. (Craving something salty? Try these 20 healthy snacks under 200 calories.)
Swap Honey or Refined Sugar In Baked Goods for Stevia
Loading up on straight sweets is asking for a blood sugar problem and—you guessed it—weight gain over time. (Sugar affects your body from head to toe. Take a closer look at how with this infographic.) Stevia, the sugar substitute in products such as Truvia Natural Sweetener, is a great alternative to refined sugar or honey, both of which can spike your blood sugar levels and then cause a crash, leaving you lethargic and craving more, says Siskind. Stevia and products that have been sweetened with stevia are actually sweeter than sugar, so you'll only need a fraction (typically one-quarter to one-half) of the amount of sugar you'd normally use. "Since there will be less bulk in the recipe, I suggest you add in a little vegetable oil, applesauce, egg whites, or yogurt to help thicken it."
Swap Whole-Wheat Pasta for Spiralized Zucchini
"Using spiralized zucchini instead of wheat noodles saves more than 400 calories and 100 grams of carbs per serving," says Amsterdam. Plus, zucchini is naturally gluten-free, high in vitamins and minerals, and a smart and tasty way to incorporate more veggies into your diet without really noticing. When you're ready to switch things up again, try spiralizing sweet potato, carrots, or squash. (More: 12 Sensational Spiralized Veggies)
Swap Rice for Quinoa
Everything on this list can be labeled as an easy change to make, but it doesn't get any easier than this one. In every meal where you'd normally use rice, swap that grain for quinoa. "Quinoa contains more dietary fiber, protein, iron, magnesium, folate, zinc, and B2 than rice," says Amsterdam. Sounds like a no-brainer. (Here are 12 meal prep ideas that aren't sad chicken and rice.)