You'll never call water boring again.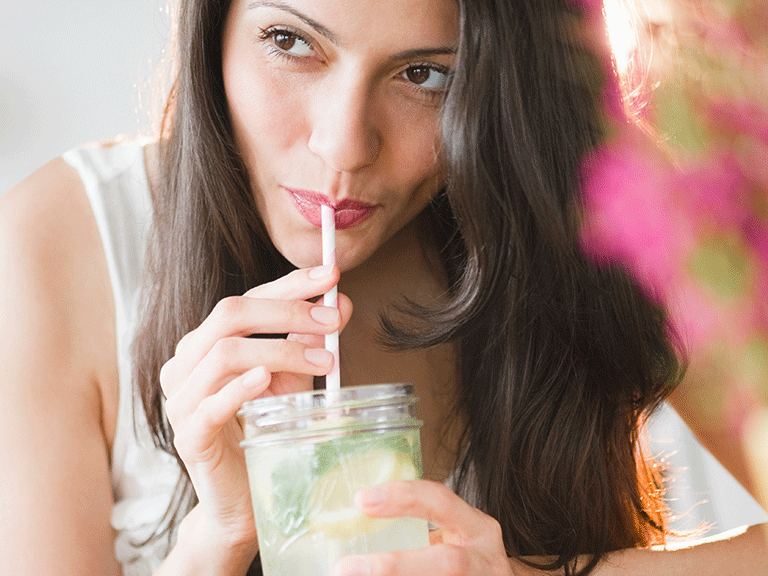 You know you need to drink water throughout the day, but sometimes you just want something with a little flavor. Spruce up your H2O with these refreshing fruit-, herb-, and veggie-infused combinations, which, in addition to being super flavorful, have the benefit of packing extra nutritional benefits, thanks to their good-for-you ingredients. So sip away, whether you're enjoying them on your porch or at your desk.
1. Apple Cinnamon Water
Since you can't take apple pie with you wherever you go in the fall, infuse your water with its flavors. Thinly slice two apples and add them to a pitcher of water with two or three cinnamon sticks, and let infuse overnight in the fridge.
2. Thyme and Blueberry
Ever had blueberry thyme jam? Try blueberry thyme water! Toss a handful of lightly mashed blueberries and some finely chopped fresh thyme in a pitcher of water, and infuse overnight. Strain before sipping.
3. Rock Your World Orange Raspberry Refresher
This combo will transport you back to summer all year long. Muddle some mint at the bottom of a pitcher. Blend 4 cups of orange juice with 1 cup of raspberries and add to pitcher. Stir in four packets of Emergen-C Immune+ raspberry drink mix and 1 ½ cups of sparkling water. Divide between four glasses and top with mint leaves.
4. Citrus and Cucumber
You've had lemon water. You've had cucumber water. But have you tried combining them? Thinly slice the citrus of your choice and half a cucumber, and add to a pitcher of water. Bonus points if you add some mint leaves.
5. Strawberry Lemon Not-Ade
Wash and thinly slice about 1 cup of strawberries. Thinly slice one lemon. Put in a glass jar, add water, and let sit for at least four hours in the refrigerator.
6. Watermelon Basil
You've probably had this as a salad, but it's also great for infusing your water. Finely chop the watermelon, muddle the basil, add water, and let sit in the refrigerator. You can strain it before you serve.