Weekend Warrior Hikes Near Big Cities

+

Looking to break out of the gym and explore the great outdoors? Just grab your Hydro Flask and head to these incredible, accessible destinations.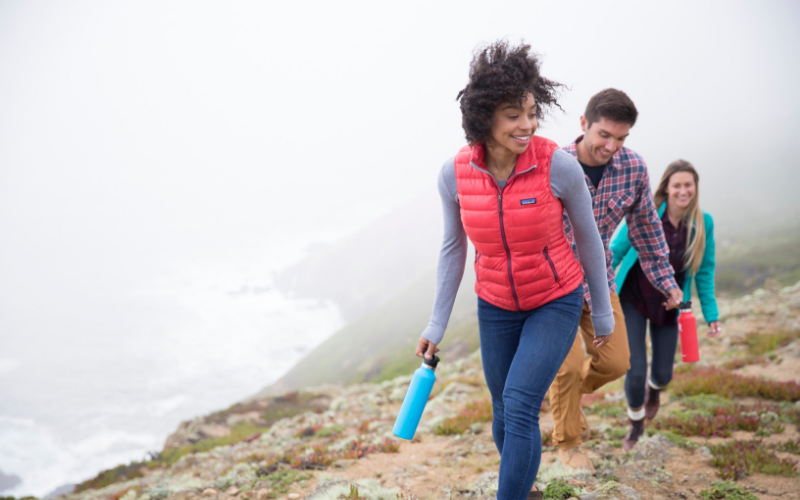 Outdoor weekends are the best weekends, and some of the greatest gifts we can give ourselves. Sore legs on Mondays are just a reminder of all you accomplished, and dirty shoes in the trunk are the sign of day well spent. And just because you live in a city doesn't mean you can't experience this same outdoor excitement. A lot of local hikes are rather short and still too close to the bustle and stress of the city—to really make the most of things, you need to seek out trails, singletrack and solitude farther from town.
No matter which major metropolitan area you're in, there's an amazing and adventurous nature hike within a few hours drive. Pro Tip: Hydro Flasks aren't just for the trail. Leave a 64oz Wide Mouth bottle full of ice water in the car to replenish essential fluids on the drive home.
San Diego
Mornings are cool and natural beauty is abundant just an hour east of San Diego, where the Big Laguna Loop, at roughly 5,500' above the desert floor, offers 10 miles of mostly singletrack through grassy meadows and pine forests. At mile six, cross the street and join the Pacific Crest Trail for the last four miles. Start early to beat the heat–and traffic–and keep your eyes peeled for deer, hawks, and snow during winter. Once you're back in town, reward yourself with a trip to one of SD's numerous craft breweries and top off your growler with something delicious.
Los Angeles
Start early (or better yet, spend the night in a cozy cabin nearby) to experience the fresh mountain air of the Skyline Trail, just two hours from downtown LA. Fifteen miles of singletrack follows the ridgeline above gorgeous Big Bear Lake, even across a ski resort. Start climbing and within a couple of miles you'll top out at over 8,000 feet—try packing a picnic lunch in the Hydro Flask Unbound Series™ Soft Cooler Pack, then enjoy a few relaxing hours above it all before coming back down.
San Francisco
A premier hike in Northern California, the Palisade Trail runs between Calistoga and Mount Saint Helena and is accessed via the Table Rock Trail or Lower Oat Hill Mine Road. Combine the three segments, and you'll enjoy 11 rolling miles of spectacular views above Napa Valley and the surrounding mountains. Pack the insulated Hydro Flask Wine Bottle and Wine Tumblers, because this weekend's workouts are in wine country and you've earned it.
Seattle
Thirty miles east of Seattle rests Mount Si, a popular weekend hike for locals seeking a steep training climb. It gains almost 1,000' per mile in about four miles, making for a great shortcut to the skyline for those willing to work for it. Once you've conquered that trail, check out Granite Mountain—it's only another 20 minutes east, yet attracts far fewer people and provides better views from the top.
Salt Lake City
The most picturesque way to take in the quaint town of Park City and surrounding landscape is from the Wasatch Crest, specifically via Armstrong Trail and Pinecone. This 16-mile out-and-back, only 45 minutes from SLC, rewards with quiet aspen and pine forests, liberating singletrack through alpine tundra, and breathtaking panoramic views from the top. After big days, locals suggest aprés-hike beverages at High West Distillery.
Denver
The highest peak in Colorado is surprisingly a Class 1 climb. More of a long walk than anything, the trail up Mount Elbert ascends from 10,500' to 14,339' in 7.5 miles, but is well worn and minimally exposed. An ideal first 14-er for hikers seeking new, non-technical challenges and incredible views, this Rocky Mountain high is only two hours outside of Denver.
New York
More accessible than the Adirondacks yet not quite as quiet, the 3.5-mile Bear Mountain Loop is no "walk in the park," despite actually being in a State Park. Veterans suggest travelling counter-clockwise, as the summit approach is steep and rocky, and more pleasant hiked up than down. Take Major Welch Trail to the summit then descend the Appalachian Trail toward the Hudson River, and if you're not sweaty enough after, link together more of the park's 235 miles of trails.
Boston
Experienced hikers seeking a hair-raising weekend away from Boston should stay in Millinocket, Maine, and walk the Knife Edge of Mt. Katahdin. The narrow, rocky ridgeline is known to white-knuckle walkers; many move slower than 1 mph across this section. Connect Chimney Pond to Saddle Trail to Helon Taylor for a beautiful, quad-burning, nine-mile loop you won't soon forget.
Philadelphia
The best views in Pennsylvania are from Pulpit Rock and the Pinnacle, just 1.5 hours from Philly. The nine-mile Pinnacle Loop climbs 1,000 feet from Furnace Creek before riding the rim of Lehigh Valley, then returns on the Appalachian Trail. Bring proper footwear for the rocky sections, and enough water to stay hydrated while watching hawks soar above the surrounding farmland.